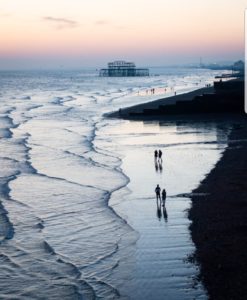 We have been looking after clients in Brighton and Hove since 1986.
Our first job was a three piece suite for a lady in Kemptown. She had a Yorkshire terrier that liked sleeping on her furniture.
We then returned a few months after to clean her hall, stairs and landing carpets.
Stair carpets quietly gather up dirt over the months.
Besfore you realise they start to lose their original colour and appeal.
Soil build up
Above is a good example of this, we are often surprised to discover the true colour of carpets when we are working.
We have also noticed indoor shoe colour transfer problems in recent years.
Its easy to test yours, get a damp white towel and give the soles of your slippers a good rub, see what is left behind on your cloth !
The popularity of domestic detergent based solutions hasn't helped either.
Sticky residues build up in the fibres attracting more and more soiling, this can sometimes see us needing to use de-foamer in our solution tanks.
We regularly work in Brighton and Hove where people are well read on the pitfalls of using such products, especially toxic ones.
Our solutions deliver better cleaning results without the need to use aggressive acids or alkalis.
Before and after sofa and carpet cleaning …
People often used to ask, 'why do carpets always get dirty after they have been cleaned?'
It's simply because of detergents lurking around in your fibres !
Why expose our bodies to chemicals when we don't need to ?
We were the original non toxic carpet, rug and upholstery cleaning company in the South East switching over to Eco solutions in 2004 / 2005
Why not find out how much it would cost to clean your carpets ?
Simply text 'Quote' to 07802177435 followed by your requiremnts.
We will text back with a carpet / rug / upholstery cleaning quotation on the same day.
Or why not talk to an National Capet Cleaners Association qualified tec on 01273 634177 today
Don't accept anything less !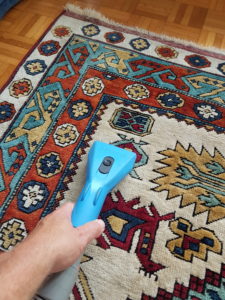 The original non toxic carpet, upholstery and rug cleaning company
Other areas covered
Lewes – Brighton – Hove – Heathfield – Hassocks – Woodingdean – Saltdean – Kemptown – Seaford
For an online quotation simply fill in our submission form and include items that require cleaning and press send, we will return a quotation for your consideration on the same day
Back to our Home Page
We also have many commercial carpet cleaning customers throughout Sussex too.
Below is an image of us in action at The Hydro Hotel in Eastbourne.