Since 1986 we have had regular calls regarding flood cleaning.
From a burst pipe to over flowing guttering, many of us have experienced some kind of flooding.
This effects soft furnishings, rugs and carpets in your home.
Its important to act quickly and try to get moisture removed as soon as possible.
We can help!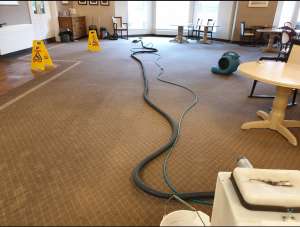 In our commercial premises we have high airflow extractors, Dri pod accelerated drying units, turbo driers and de humidifiers.
The image above shows us working hard to remove flood water at the Hawthorns Retirement Residence.
Flood cleaning / treatments.
When we arrive our first priority is to get our industrial cleaning extractors working.
Pulling out as much of the moisture that is sitting in the carpet / soft furnishing fibres.
We will then apply cleaning / sanitising solution to the fibres before rinsing with hot water.
Our turbo driers have three fan speed settings and can work by blowing air over the fibres and also under the carpet.
We will sometimes leave them working for up to three days.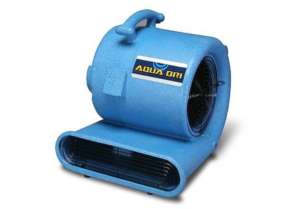 De humidifiers are also a very effective way of speeding up the drying process too.
Removing moisture from the air in an area that has suffered water ingress.
We can also use drying equipment when carpet cleaning for our clients if they are concerned about using our services in the winter months.
If you have suffered from a flood then we are happy to help. You can contact us on Eastbourne 520044 and speak to a fully qualified technician.
You can always reach us by using our confidential contact form. We never share your information with any third party.
Or text us on 07802 177435 start your text with the word 'flood' we will then prioritise your case.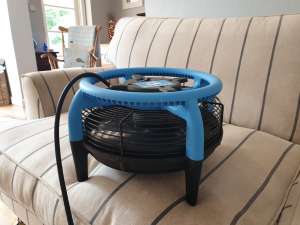 The image above shows on of our Dri pods in action. Drastically speeding up the drying process.
Cleaning flood damaged rugs
We purchased our commercial property with a view to offering a specialist rug cleaning service to our customers.
This involves picking up a dusty / dirty rug, putting it through our process and returning the rug ready to use, clean and conditioned.
Our unit is particularly useful when rugs have experienced water damage.
We have a specialist workshop and a drying room capable of holding up to 8 rugs at any one time.
We hang the cleaned and treated rugs and can blow warm air on them, this dries them out thoroughly. Avoiding issues with mould.
Restoring rugs back to their former condition with no aggressive of soil attracting residues.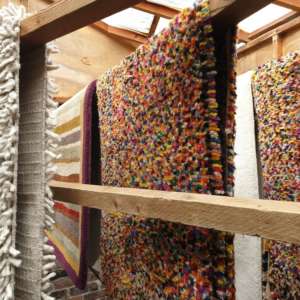 Top tip. Try and avoid cleaning rugs in your home. Rug dusting / beating cant take place, which means less of a job.