Hotel carpet cleaning has been a very regular service that we have delivered over the years.
We fully appreciate the importance of keeping rooms and areas in service for any of our Hotel customers.
That's why we promise to get to them quickly, on the same day.
We have specialist equipment that can deal with almost any eventuality.
Hotel managers and owners are never to know when an 'accident' may happen!
If its a sofa, rug, carpet or mattress we can deal with the issue.
Carpet cleaning in hotels – our flexibility
For large areas of carpet especially in public areas, we know that working when guests are not around is key.
For main reception, seating areas, bar and restaurants the only time is coming during the night or when areas are not being used.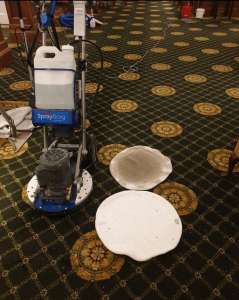 The image above shows how effective our HOS Orbot Sprayborg machine is.
Commercial cleaning specialist machine. Carpets are dry within an hour!
The area cleaned was fairly small, our system and products removed considerable quantities of ground in soil.
The benefit of using this particular system is that its almost silent!
The cleaning solution that we used is odourless and non re soiling too. The combination means that fibres stay cleaner for longer.
Carpet found in hotels will usually be of good quality. Is it important for a manager or owner to know that we re fully qualified?
We have tackled Seagrass and Sisal carpet cleaning in Hotels too. We dry cleaned all carpeted areas at Wingrove House in Alfriston.
Qualified carpet cleaning
We have seen many carpets ruined over the years through over wetting or inappropriate solution use.
Its no joke. Areas are out of use with major disruption whilst new carpet is re fitted.
This could cost a hotel huge amounts of revenue.
That's why we are fully qualified, we are full national carpet cleaners association members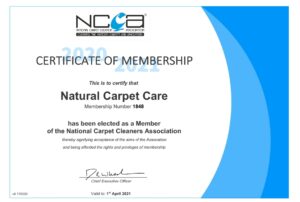 If someone is offering to clean the carpets at your hotel, ask them for their certificate of membership. If they are not members then ask why?
We have attended courses and passed examinations relating to all aspects of our industry.
We know our business inside out. This gives our customers confidence.
Our customers have regularly left reviews for us, why not take a peek?
Get in touch.
Call us on Eastbourne 520044 to arrange a visit. A qualified and experienced technician will answer any questions or concerns that you may have.
After a full survey an inclusive quotation will be instantly sent you your email account (this is fully printable too)
If its easier send us a text. Include your requirements and details and we will call at a convenient time.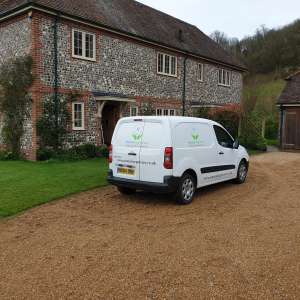 We are also upholstery cleaning experts.
Natural carpet care, covering all town and villages in Sussex.