Look after your rugs! Rug cleaning in Eastbourne
More people are now realising that rugs can bring colour and warmth to any home.
With so many different types of rugs available, keeping them clean and hygienic involves sophisticated treatments and equipment.
A build up sand and soils at the base of rug fibres will see premature wearing, eventually ending in bald patches.
A quality rug with regular vacuuming and cleaning will often outlive its owner !
Our process will restore colour and improve the hygiene levels of your rug, returning it to as close to new condition as possible.
If you live outside the Eastbourne area take a look at our blog pages with area specific pages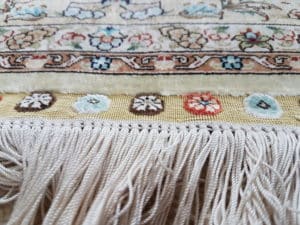 Our rug cleaning process – how we work
At Natural carpet care, we only use safe, non toxic solutions that restore your rug to an 'as new' condition. Removing deposits from deep within the pile.
We follow this process – Firstly, we vacuum your rug, not just on the surface, but the back too. When the facing pile is open we use a machine to beat the back of the rug.
We then apply our cleaning solution, agitating gently using a TM3 brush system or an orbital machine.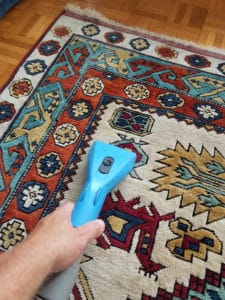 After a fifteen minute dwell time, your rug is rinsed using the most up to date cleaning equipment. Your rug will then be conditioned and then dried. Rug fringes are then treated in our drying room. With delicate rugs, we often use a dry cleaning system or low moisture system. We can identify rugs that may need this type of cleaning.
We also are specialist carpet and sofa cleaners delivering high quality services throughout Sussex
Rug cleaning trained professionals
Following our training by the National Carpet Cleaners Association We can also clean rug fringes, using upholstery cleaning hand tools in conjunction with our micro splitting solutions.
We are pleased to say that we now own a commercial property with full cleaning facilities including a workshop and drying room. We now collect, clean, condition, dry and re deliver your rug, ready to use.
This service has been used by 100's of very satisfied customers over the years.
Get a rug cleaning quotation today by using our quotation page