After re fitting the main office with new walls, lights and flooring we have been looking at the main shopfront in recent months.
All windows have been fitted with digitally printed signage, transmitting exactly what we do
Our talented painter Decio then spent time sanding, repairing and re painting the main shopfront of our office.
We really like the end result and after receiving comments from our customers we think others do too.
Our workshop
Its particularly important to have commercial premises when thinking about rug cleaning.
Our workshop is fully equipped with the latest extraction and agitation equipment.
After the cleaning / beating process has finished rugs are then hung in our temperature controlled drying room, we are not just a pretty shopfront !
After so many years in business its great to know that we can really execute a deep down thorough clean, delivering our customers rugs ready for use.
Why not find out howmuch it would be to clean your rug? Simply text 'quote' to 07802177435 followed by your rug type and size.
We will respond with a quotation on the same day!
National carpet cleaners association
Don't forget we are National Carpet Cleaners Association qualified carpet and rug cleaning specialists.
Areas covered for cleaning
We cover all of the Sussex area including Brighton, Hove, Lewes,Seaford, Eastbourne, Heathfield, Seaford, Cooden, Bexhil on Sea and Uckfield.
Carpet, rug and upholstery cleaning involves the use of toxin free and non re soiling solutions.
Delivering long lasting clean and fresh fibres that are safe.
Contact us on Brighton 634177 or Eastbourne 520044.
Speak to us about rug, carpet and upholstery cleaning, we are happy to anwer questions or concerns.
Get a speedy quotation right now…visit our submission page, we will get back to you on the same day
We look forward to being of service to you !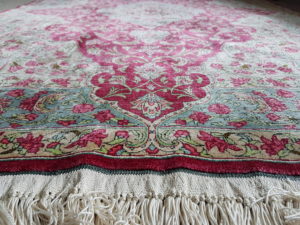 Back to our Home Page