We have been carpet cleaning in Newhaven for over 30 years.
Newhaven is a port town with regular ferries crossing the English channel to France (Dieppe)
For many this is an excellent way to travel to Europe with your car.
The swing bridge is also in operation with online warnings for people using the busy road to access Seaford and Eastbourne.
We like visiting the coastal town on Newhaven, we usually visit the town every week.
There are lots of companies offering services similar to ours, but why choose us?
Carpet cleaning in Newhaven – Why us?
We have hundreds of satisfied customers in Newhaven already, we think you will like what we do.
In any industry its very important to seek out companies with trade qualifications.
The National Carpet Cleaners Association delivers the only recognised trade qualification in our industry.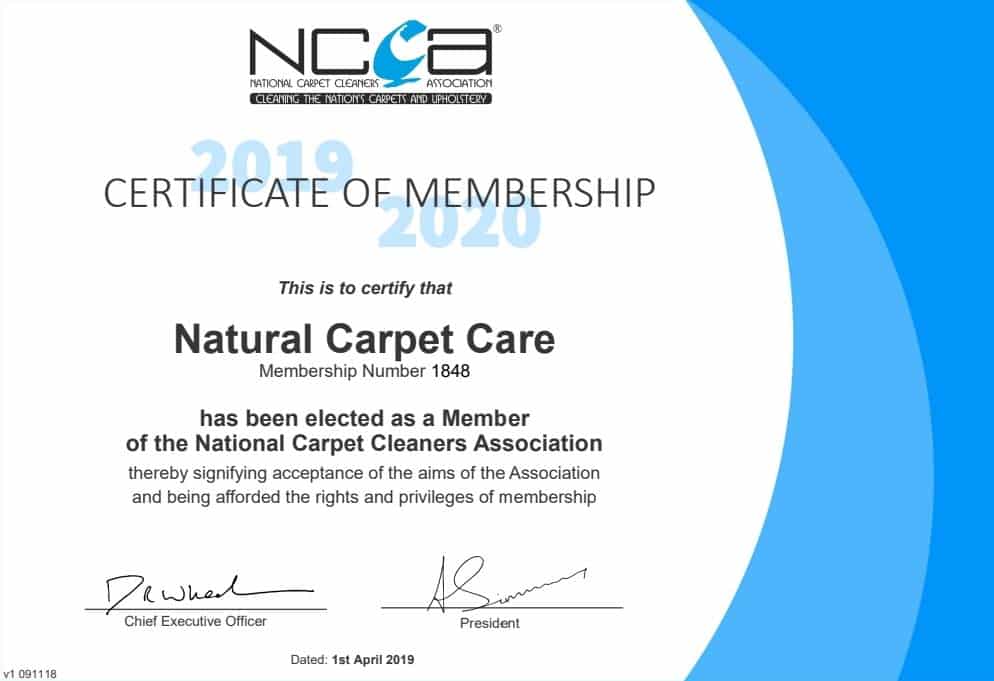 We had to attend courses and pass written examinations to gain our qualification.
Each and every year we need to renew our membership and send proof of our treatments risk insurance (did you know standard third party liability insurance does not cover carpet, rug and upholstery cleaning)
Ask the company offering their services to provide their up to date certificate and membership number.
You can easily check if they are members by logging on to the national carpet cleaners association website.
If they are not members than ask why not?
Our carpet cleaning in Newhaven customers can relax when we are working for them, we know exactly what we are doing!
Sofa, rug and carpet cleaning in Newhaven – our process
Here at Natural Carpet Care we are always looking to improve the service that we deliver.
Our equipment is an important part of our process, upgrading to the latest extraction systems enable us to remove maximum soils and staining.
Drying times are kept to a minimum too, usually around 3 hours. Many carpet cleaning in Newhaven clients are surprised at the results and drying times our system can deliver.
Our cleaning solutions contain no detergents or soaps, with no synthetic odours. Our products are non toxic and baby safe.
This leaves carpet and sofa fibres free from sticky residues when we complete a job. In turn this means that items cleaned should stay cleaner for longer.
We can also apply stain protection for carpets and sofas. Directly after cleaning is the best time for this.
Another positive factor in our process is that our solutions are toxin free.
Beware of some bargain companies using highly toxic solutions that can sometimes leave harmful residues behind in your fibres
With so many reports of health issues caused by chemical exposure we think its a good idea to use safe and effective products that will not cause health issues.
Why cause a problem when you are employed to solve one?
Better for our carpet cleaning in Newhaven customers and their families.
Carpet cleaning & sofa cleaner – easy quotations
Our contact us page is easy to use. Simply fill in your requirements and contact details and click submit.
We will return an inclusive quotation on the same day.
Our text quotation line is proving to be extremely popular. Simply text 'quote' to 07802 177435 followed by your requirements, again, we will be in touch on the same day with an inclusive quotation.
You can always call us on Eastbourne 520044 or Brighton 634177 we are happy to answer any questions and discuss a quotation over the phone.
Carpet cleaning in Newhaven but also nearby Seaford – South Heighton – Peacehaven
Its all very well us telling you about our carpet cleaning – rug and upholstery cleaning services but what do our customers think?
Reading reviews is extremely important before selecting any service.
Our reviews are from clients that have used our carpet – rug and upholstery care services for many years
We also offer specialist Seagrass and Sisal carpet cleaning services. Using our dry cleaning process
An example of water going in to our cleaning system (right) and water out (left) its shocking what can be lurking in your carpet, rug or sofa !
Raising the standard of carpet, rug and sofa cleaning services throughout Sussex.
We look forward to being of service to you and your family.