Carpet cleaning in Vines Cross in Sussex has been a regular entry in our diary since 1990.
Vines Cross was thought to have originally been named after a Mr John Vyne (The Vintner) who resided in the
village of Hellingly in 1595.
Unfortunately today the village can only boast a public house (The Brewers Arms) and a garage in the village these days.
Many years ago it had a church, school, grocers and a post office. Primary school education is now provided a school in Maynards Green.
With stunning views over the Sussex countryside, Vines Cross has long been a popular place for people to live. Its closest town is Heathfield.
Our carpet cleaning in Vines Cross customers have appreciated our fast drying and effective system now for many years.
With so many carpet cleaning in Vines Cross options, why consider our services?
Its easy to find people / companies offering services that sound like ours. But why choose our services?
With any trade its so important to source a company with the correct qualifications and experience.
Did you know that we are fully qualified and fully trained and insured?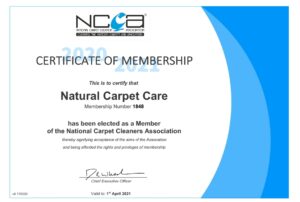 The national carpet cleaners association deliver the very best levels of training followed by a written examination.
With all aspects of our business covered including carpet cleaning, rug cleaning and soft furnishing cleaning.
Take a moment to calculate the replacement costs of carpets and furniture in your home, you may be in for a shock!
Every year we need to submit our paperwork to the association including our insurance certificate.
Did you realise that standard liability insurance will not cover carpet and soft furnishing cleaning, only treatments risk insurance will suffice.
Ask any company proposing to clean your rug, carpet or sofas for their membership number. You can check the NCCA website too.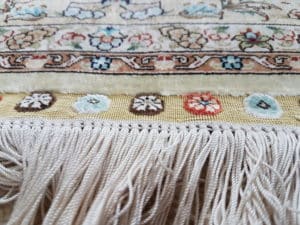 How we work in your home
When we arrive with you our first action is to inspect the areas / items that we are cleaning for you.
This enables us to select the best solutions and correct cleaning method.
People are often surprised to learn that there are many different methods to clean your carpets.
This is when we are glad to have attended courses and have the correct knowledge levels.
We then pre vacuum your carpet using one of our SEBO BS36 professional vacuum cleaners.
Only then will we use our high specification TM4 or TM3 carpet & rug counter rotating brush machines.
Many companies will overlook this part of the cleaning process, we think it is essential to execute a deep and thorough clean.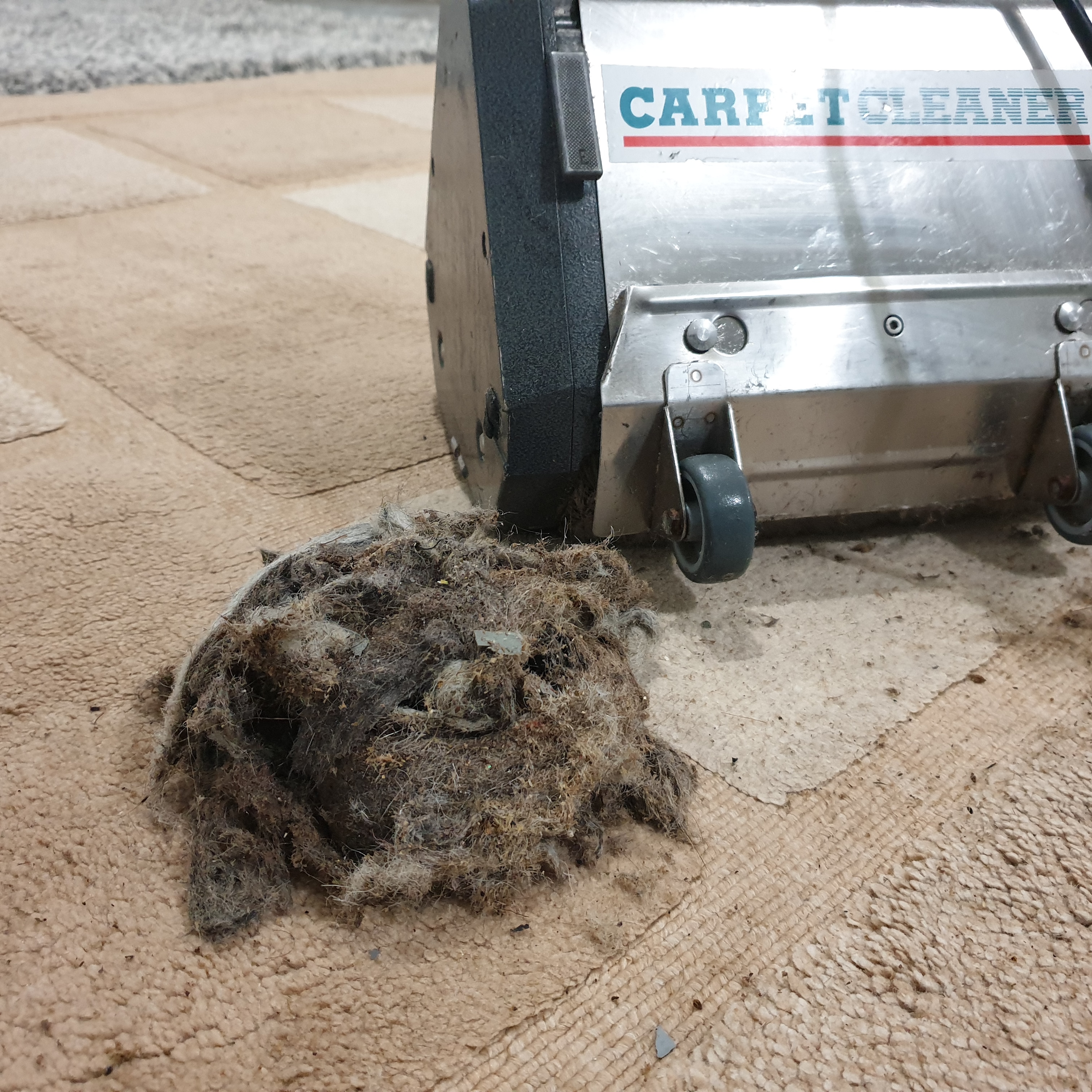 The image shows a ball of human / pet hair, fluff, dust and other debris removed from a fairly small rug as part of our preparation process.
This will also help to remove ground in carpet fresheners too. These chemicals can sit in the base of your fibres for years!
Individual stained areas will then be treated before we set up one of our ultra high airflow rinsing / cleaning machines.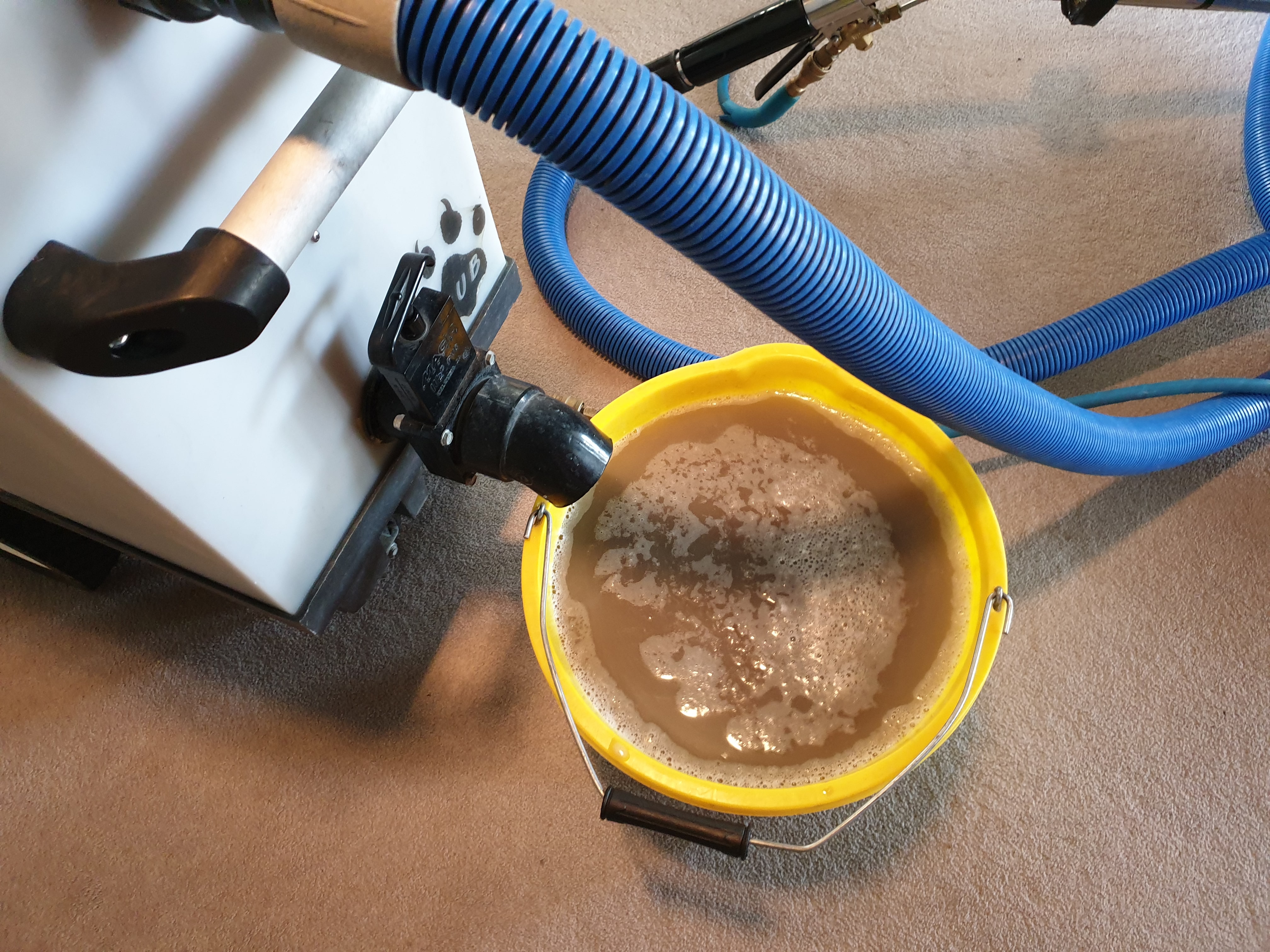 People are always shocked when we show them the grubby water removed after cleaning their carpet.
Over the year high quantities of debris will build up in your fibres. From skin cells to fuel dust.
The effect that this has on your indoor air quality in your home can be quite dramatic!
Get a free no obligation quotation
Our get a quotation / contact page is easy to use and confidential (we never share your details with any third party)
Call us on 01323 520044 we are happy to answer any questions or concerns that you may have relating to any of our services.
We can also give you an approximate idea of cost over the phone or arrange to drop in and see you.
Our company is not listed on sites like Checkatrade. We don't subscribe to paying directories / lead generating sites that list non qualified trades.
We visit all towns in Sussex too, from Hailsham to Battle.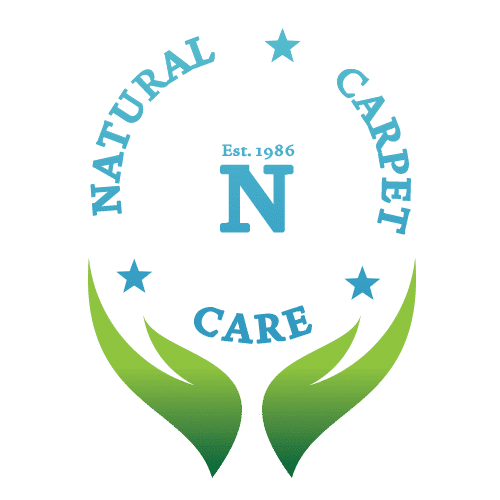 Raising the cleaning standards throughout Sussex!