End of tenancy carpet cleaning is a service that we have provided for many years.
Its extremely important to deliver the best possible results for the landlord and tenants alike.
The landlord needs to make the most of his investment and keep the carpets in his property in the best possible condition for future tenants.
The tenant needs the carpet to look as close to its original condition to ensure his/her deposit is returned.
By using cheap equipment and chemicals (detergent based) its possible to actually shorten the life expectancy of a carpet.
Manufacturers make wild claims relating to 'professional results' when marketing their domestic machines.
Read more about our range of cleaning services
End of tenancy carpet cleaning – our equipment
We spend vast sums of money on equipment, latest products and training.
On average the equipment we bring to your premises costs us over £8000.
We believe in quality and think most people want the best results over a bargain price.
There are many different methods for cleaning carpets, we have invested in equipment that delivers them all.
Ground in soils and spills will sometimes take many different products and knowledge to remove.
Some managing agents will use a general cleaning company to clean the windows, kitchen, bathroom and floors who offer carpet cleaning as an add on to their services.
The problem is that they will often pick up a cheap machine and use low cost solutions.
Some will also be under insured. Specialist treatments risk insurance covers carpet cleaning.
How about training? People value highly trained and qualified trades people.
National carpet cleaners association
We are full members of the national carpet cleaners association
Passing examinations and attending courses to ensure that when we arrive at your property we know exactly what we are doing.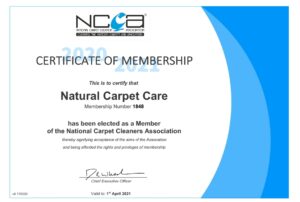 We take our business very seriously. Replacing large areas of carpet will be an expensive exercise, making professional carpet cleaning an attractive option.
Our end of tenancy cleaning is used by people in Eastbourne, Hailsham, Pevensey, Stone Cross, Meads, Alfriston, Old Town, Roselands & Willingdon.
Get in touch
For advice and an idea of cost over the phone, call our local Eastbourne 520044 telephone number.
We are happy to discuss any aspect of our end of tenancy carpet cleaning services or arrange to drop in and give you an estimate.
Our contact us form is easy to use and we do not share your personal information with any third party.
Text quotations are very popular. Simply text 'quote' to 07802 177435 with your requirements.