There are many different types of carpet, that's why we have different cleaning methods.
From carpet tiles to beautiful Berber carpet. There is no 'one fits all' carpet cleaning method.
Hot water extraction
This method is often referred to as 'steam cleaning'.
After carpet is prepared an extraction machine is usually set up outside the customers front door.
This machine works using water encapsulation. Basically warm water is injected into carpet fibres (150-350 psi)
Even though vacuuming would have taken place, soils left in the fibres will be absorbed / suspended by water droplets.
High velocity machines will then recover the dirty water into a holding tank which is part of the cleaning machine.
The 'wand' is the silver tool used to spray and recover the water. Its slim vent recovers the water effectively.
Our ECO friendly toxin free solutions are also recovered in the process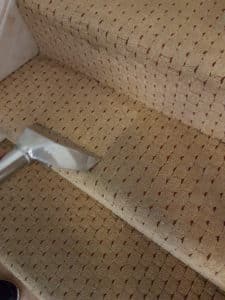 Dry carpet cleaning
Dry carpet cleaning is used on floor coverings that will potentially shrink and tighten, either splitting seams or pulling from gripper rods.
Sisal and Seagrass are carpets that we would usually use a dry cleaning system on.
After a pre vacuum micro sponges are evenly spread around the carpeted areas. They are then agitated into the fibres using a TM3 or TM4 machine.
Micro sponges could easily be mistaken for sawdust. Their job is to absorb soiling in the fibres, ready for recovery.
A dwell time of around 20 minutes is left. They are then recovered using a SEBO BS 36 comfort upright vacuum cleaner.
Its an odd way to clean carpet carpet but the results often surprise us!
Orbital cleaning systems
This system is uses a water based encapsulation system providing deep carpet cleaning using cotton based pads to absorb dirt.
This method will leave the carpet fibres almost dry.
We use this system for large / open office areas. Once again this cleaning method uses toxin free solutions.
The large tank on board will hold our cleaning solution that is mixed and ready to use.
The machine has a pump that feeds professional jets that evenly apply our product just in front of the orbital pad.
To be honest this system has been a revelation for many clients over the years, shocked to see the results that it achieves.
Low moisture carpet cleaning systems
A low moisture carpet cleaning system is good for cleaning contract floor coverings such carpet tiles.
Orbital systems are often too much for carpet tiles, they often pull them up!
This is where the low moisture rotary system comes in play.
Cotton / micro fibre pads are wrung out in clean water. After the carpet has be vacuumed and our cleaning solution has been applied.
The pads will usually cover 5-7sq metres before they need rinsing out and placed in clear water.
This system will remove stubborn and ground in staining.
We also offer an effective carpet protection service too. This discourages soiling and staining.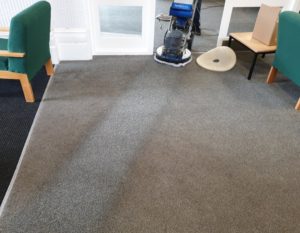 Natural carpet care are carpet cleaning professionals working in the South East.
We are fully qualified (national carpet cleaners association) and fully insured.
We hope our post has given you an insight into our carpet cleaning methods.