Carpet spotting services – accidents happen. In every home at some point.
Stains like coffee, wine, alcohol, food, pet stains and many more.
People often head for bottles that live under their sink.
Did you know most domestic type cleaning products contain detergents and some even contain bleach (optical brightening agents)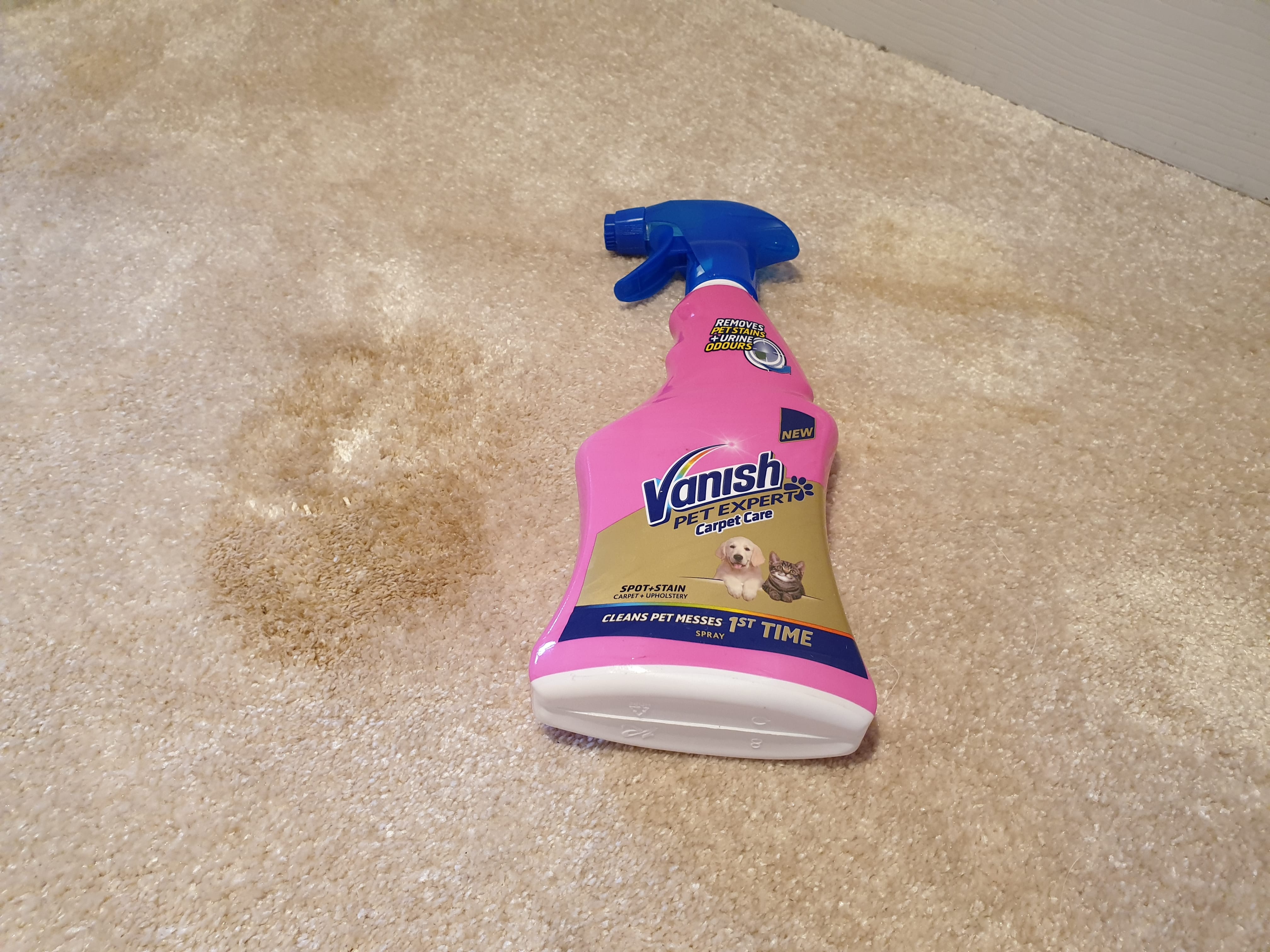 The image above shows a pet urine stain after our client tried to remove it with a household product.
Bleach will end up removing colour from your fibre, sometimes fixing the stain that you are trying to remove.
As well as removing the stain content its equally as important to remove the solutions that have been used in the process.
Watch our for cheap carpet cleaning offers. These will usually involve detergent based products.
Carpet spotting – small areas.
We are happy to attend your home and use our professional system and products to remove stains.
Its not necessary to clean the whole room.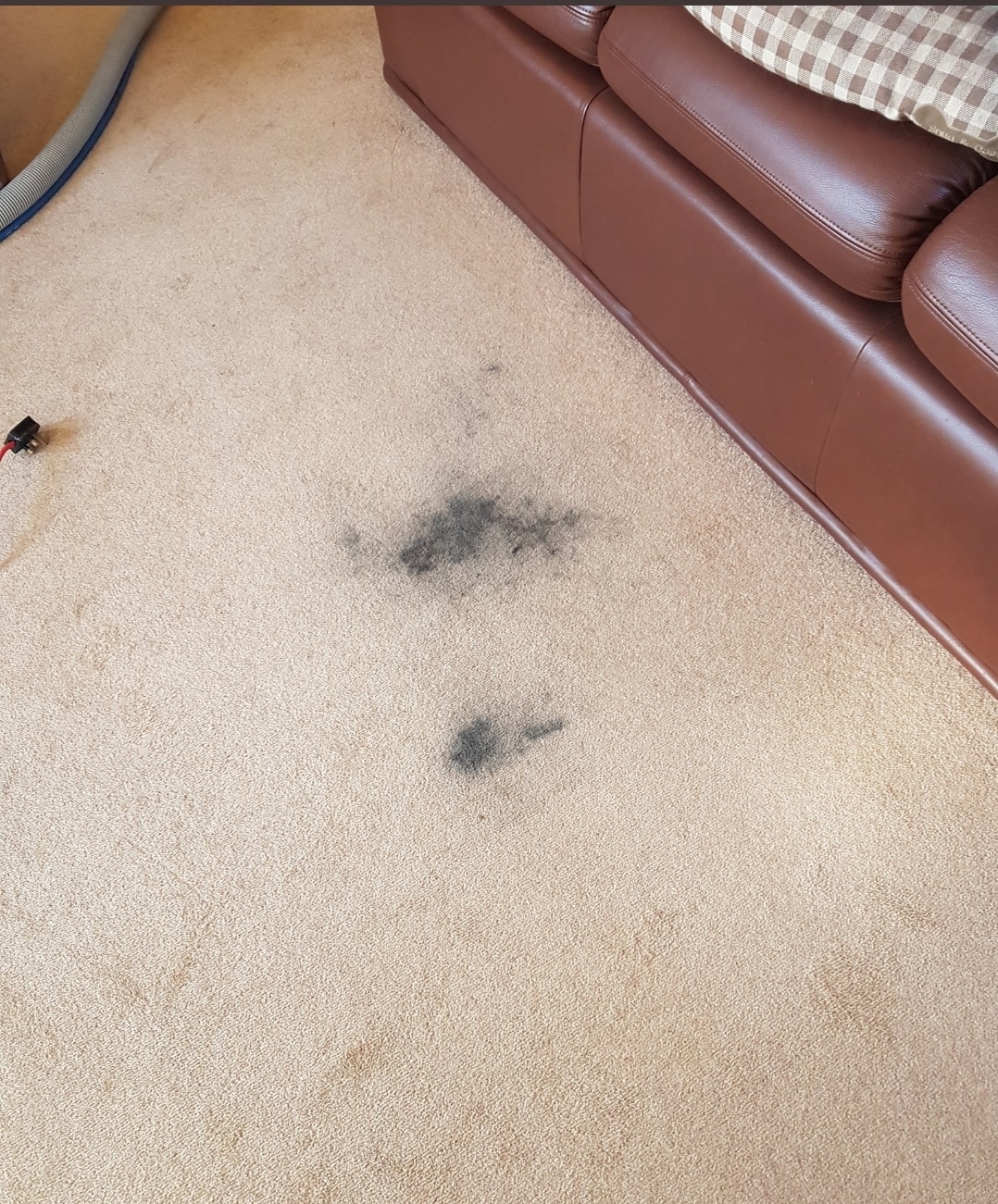 This image shows battery acid that has been spilt on our customers carpet due to a chewing dog.
It was good to hear he hadn't hurt himself in the process!
We attended and used a product called pure clean. The product was gently massaged into the carpet.
A terry towel was used to transfer the spillage out of the carpet fibres.
This was pretty successful with around 85% of the stain removed.
The rinsing process was then executed using a Jaguar cub machine. The results below speak volumes for the effectiveness of toxin free solutions.
The rinsing process is a good way to remove carpet powder / freshener products too.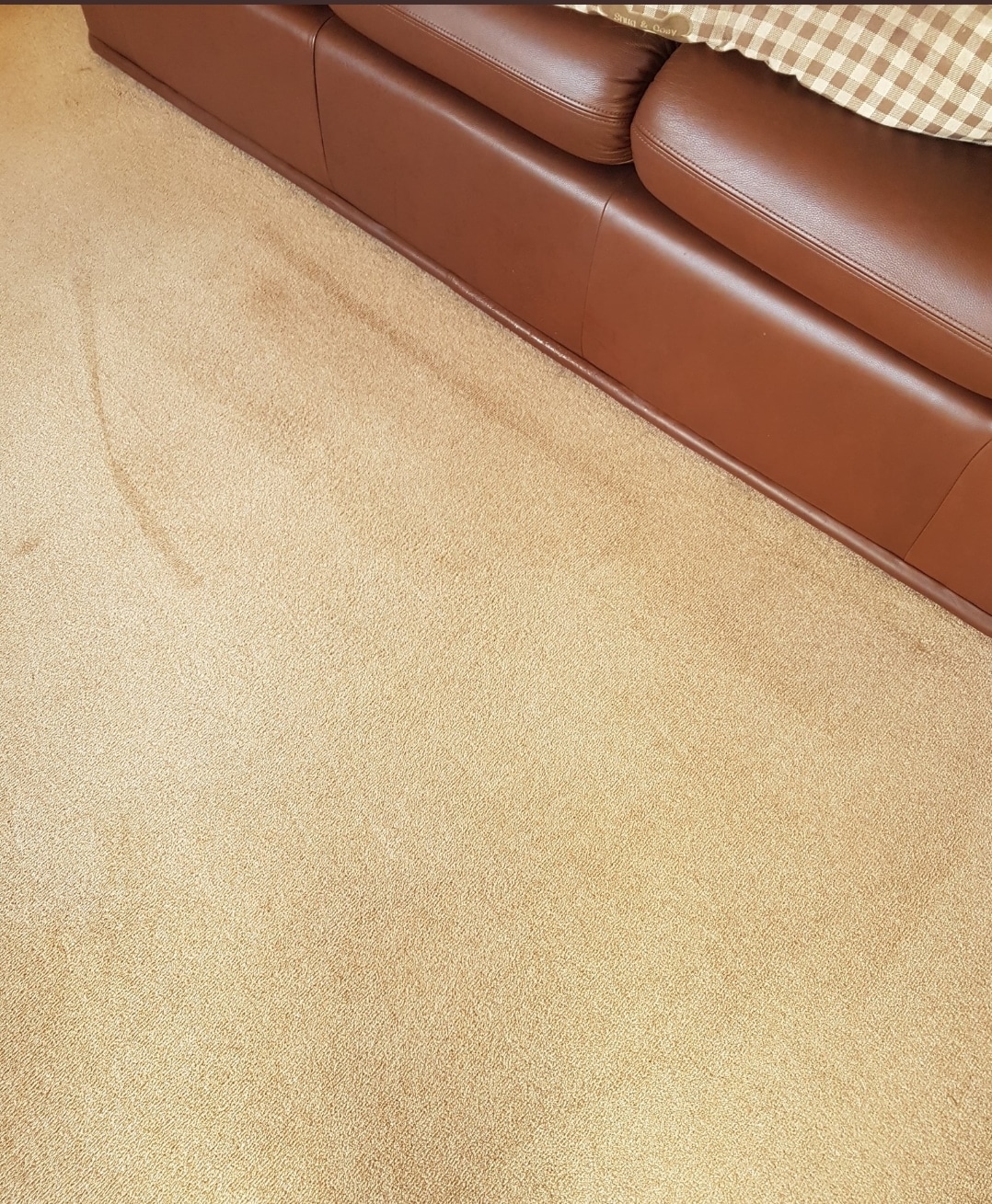 Cleaning with confidence
Removing spots and stains have been a frequent activity for us since 1986.
Of course no company can ever guarantee to remove every stain that they face but our success rate is extremely high.
Why not consider carpet protection to help avoid stain fixing in the future.
Knowledge and experience is a big factor. Along with our efficient products and cutting edge equipment.
Membership of our industries national carpet cleaners association is a great helps. It also means that we are fully qualified and fully insured.
On arrival we will come in (wearing overshoes) and inspect the area of concern.
Specialist products and equipment will be used to tackle the problem.
We can even leave you with a specials 500ml ECO spotter. This safely removes many stains safely, leaving no soil attracting residues or harmful chemicals in carpet fibres.
Get in touch
Our quotation process makes receiving an estimate for carpet or sofa cleaning easier than ever!
Get an almost instant quotation by sending a text to 07802 177435 starting with 'quote' followed by your stain issue.
We will be back in touch in a flash with an inclusive quotation. (most stain treatments are £45 inclusive)
This covers us for travel and setting up our system to deal with the issue.
Speak to a person – call us on Eastbourne 520044
Use our contact us page via this website. We will send an inclusive quotation straight back to you.
We look forward to being of service to you and your family.
Our collective cleaning services offered in the towns and villages around East Sussex.